Next Level Law Practice is your opportunity to finally be the lawyer you went to law school to be: to guide your clients to make informed, empowered, smart decisions for their families and their businesses. NLLP is a rigorous training program for attorneys looking to learn the essentials of building an estate planning and business law practice, as well as the proper business fundamentals to start and grow a profitable business.
Your Instructor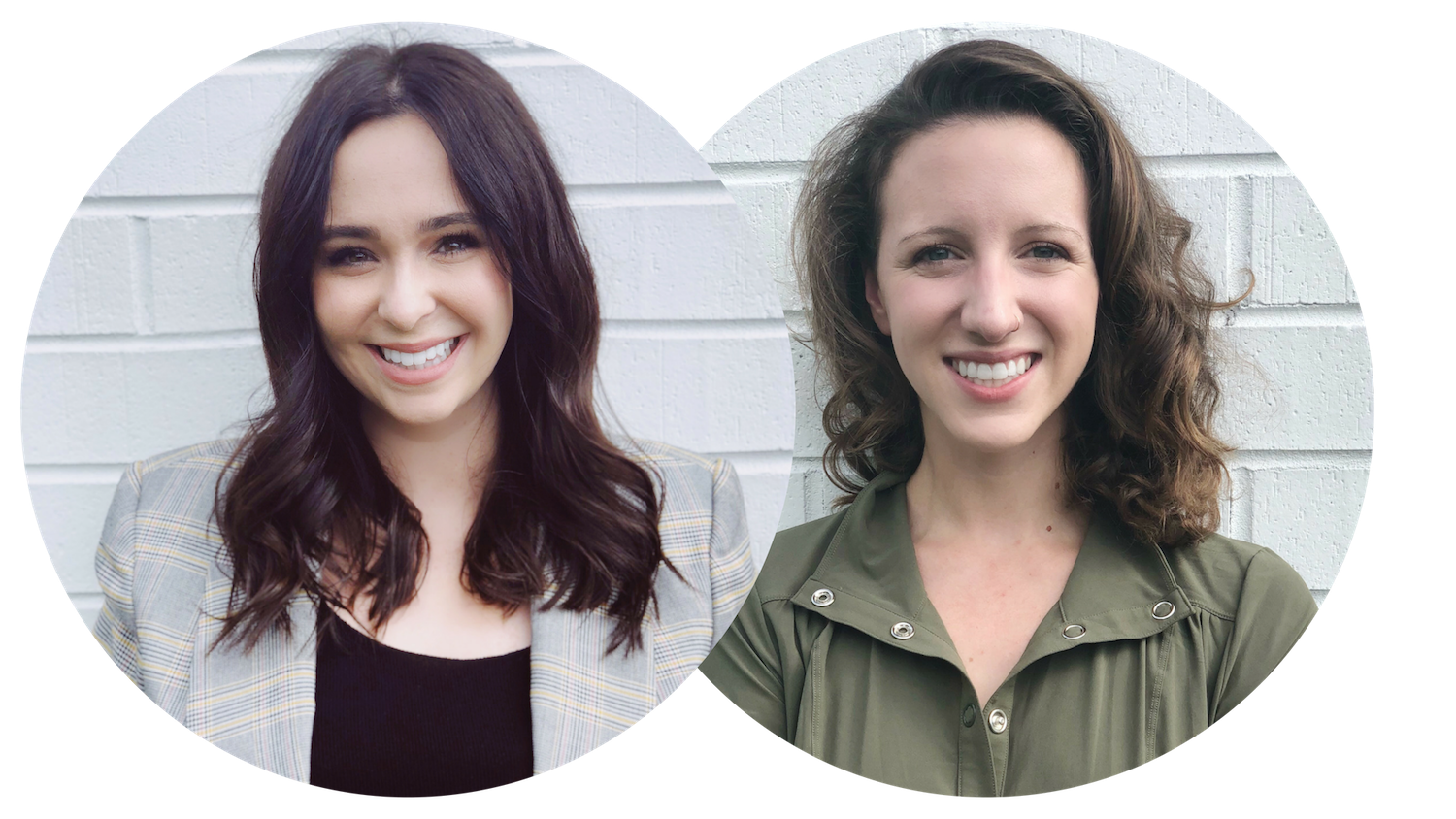 Hi, we're Jessi & Megan
In Summer 2013, we were two law students living in Washington, DC who bonded over our mutual concern about what's next?
We had followed all the rules: gone to law school, done every activity, internship, and clinical program available, and worked our butts off. We both knew we wanted to use our JDs to make an impact, do creative work, and earn a decent living. But the options available to us seemed so limited and none of them left space for our non-negotiable bottom lines.
Find Freedom and Love What You Do
Luckily, we are dreamers, doers, and creators. So, we dove into the legal profession with the goal of creating work that we loved. Jessi started her estate planning practice right out of law school, using her entrepreneurial drive and passion for systems to create a hugely successful practice in just a few years. Megan went the nonprofit route, working with businesses and community groups and learning everything she could about community development and creative problem-solving.
In the depths of Winter 2017, after years of friendship and many, many long conversations about building a better way to practice law, we decided to do something about it. We created Juris Diction with a simple vision: by using systems, a little tech savvy, and some business know-how, anyone can create a legal business that allows them to THRIVE. Being a lawyer doesn't have to mean late nights, no time for family, and being tied to your desk (in a single jurisdiction) for the rest of your life. In today's digital world, there is a way to bring the practice of law into the 21st century and earn more than you ever thought possible.
And then, we did it! Armed with the vision, we built a six-figure additional income stream in less than three months, which gave us the freedom to untie our income from hourly work, travel, take breaks, and even build a Mastermind program that we LOVE. After years of working hard to make law work for us, we are now thriving in our zones of genius. We do what we want and love to do, and we are here to help you do the same.
Through our online courses, free webinars, incredible Facebook community, and transformation-making, soul-igniting THRIVE mastermind, we are helping attorneys around the country build sustainable law practices that supports their freedom and boosts their income!
Course Curriculum
The program materials are available online via mobile and desktop with videos, worksheets, PDF's, and action steps for each of the program modules. NLLP also includes one on one coaching with attorneys who have built their own successful practice and legal business, as well as access to a private community of like-minded lawyers. Through this community and coaching component, you will have the ability to team up with accountability partners, ask questions, and get feedback to help you achieve the results you desire.
The Next Level Law Program Includes The Following Modules:

Module One: Next Level Law Practice Foundation
NLLP starts with the basics. Every great business needs a strong foundation, and your practice is no different. What is your vision for your law degree? What does your ideal practice look like? In Module 1, we discuss how to design a practice and client service model that aligns with your visions and your goals. We also take a deep look at limiting mindsets and what's been holding you back from achieving your full potential. We end Module 1 by getting clear on your practice's ideal client and service model.
This module includes:
Defining Your Ideal Practice
Next Level Law Practice Design
Services that Align with Your Vision
Setting 90-Day Practice Goals
Growth Groundwork
Creating a Law Firm Systems Manual and Checklist
Getting to Know Your Ideal Client
Module Two: Creating a Fool-Proof Client Marketing System
In Module 2, you will learn how to build a fool-proof client attraction system. You will learn our secrets to building trust and authority in your practice. Throughout this module, you will learn how to use a content-based marketing system to attract your ideal clients and pre-qualify them to work with you.
This module includes:
Why Most Transactional Law Practice Marketing Systems Fail
Creating a Six-Figure Referral Marketing System
Using Content Marketing to Build Trust With Your Ideal Client
Behind the Scenes: Juris Diction's Content Marketing System
Social Media for Transactional Attorneys
Online Advertising
Module Three: Sealing the Deal: Designing a Winning Client Conversion Process
Attracting your ideal clients to your practice is one thing, but closing the deal is another. In Module 3, we provide a step-by-step client conversion system that will boost your closing rate to 85% or higher.
This module includes:
The Secret Behind a 95% Client Conversion Rate
Saying Goodbye to the Billable Hour
Designing a Value-Based Fee Schedule
Call Intake Script
Pre-Meeting Value-Ads
Creating a Warm Office Environment
Crafting a Winning Client Conversion Script
Module Four: Systematizing Your Client Service Process
What sets your practice apart from other lawyers your clients have met? Your client service is exceptional. Our guess? You've already got that down. BUT, exceptional client service doesn't have to mean re-inventing the wheel with every client you engage. In Module 4, we show you how you can foster exceptional client service in your law practice using systems that save you time, money, and stress.
This module includes:
Estate Planning
Initial Consultation Meeting and Plan Design
Creating an Automated Welcome and Onboarding Process for New Clients
Estate Plan Creation and Drafting Process
Efficient Signing Meeting
Final Meeting and Estate Plan Delivery
Business:
Initial Consultation Meeting
Membership v. One-Off Services
Creating an Automated Welcome and Onboarding Process for New Clients
Efficient Service Execution
Final Client Meeting and Ongoing Relationship Building
Module Five: Becoming a True Advisor - Referrals and Cross-Selling
Module 5 is about being memorable, creating lifelong relationships with clients, and boosting your referrals to keep those ideal clients coming. In this module, we provide techniques, tools, and templates that will help you build a client pool that you LOVE.
This module includes:
Double Your Income Through Cross-Selling
Crafting a Client Retention System
The Perfect Client Gift
How to Get Stellar Testimonials
Client Survey and Feedback Process
The Perfect Referral Pitch to Existing Clients
Module Six: Putting Your Law Practice on Autopilot
Module 6 is where we get to the fun part: automation! At Juris Diction, we are automation and systems fanatics, which means we've spent years developing tools and techniques for you to automate up to 80% of your practice. What does this mean? Make the best use of your time and maximize your efforts. In short? Freedom!
This module includes:
Automated Scheduling
Automated Email Workflows
Automated Document Assembly
Automated Administrative Tasks and Workflows
Time Blocking
Automated Billing
Module Seven: Running A Next Level Law Practice
Module 7 does a deep dive into your operations. Whether you are launching a brand new practice or you've been at it for years, this module helps you cut the bulk of your operations down to reveal a streamlined, efficient, 21st-century law practice.
Creating a Paperless Practice
Cloud Storage and Services
Practice Management Software
Email Efficiency
Virtual Collaboration
Securing Law Firm Data
Password Management
Backing Up Data
Drafting Software
Module Eight:How To Do (Only) What You Love in Your Law Practice: Outsourcing and Team Building
Stop working hard at what you do well, and start using your time to do what you love! Just because you can do it on your own, doesn't mean that you should. And it certainly isn't the way to boost your revenue and build freedom into your practice. So, Module 8 is about outsourcing, building a team, and working in your zone of genius.
Identifying Your Zone of Genius (and Delegating the Rest!)
Smart Delegating: Teammember Onboarding and Standard Operating Procedures
The Key To Hiring a Team-Oriented Receptionist
Bookkeeping
Transcription
Back Office Drafting
Module Nine: Legal Education Basics for an Estate Planning and Business Law Practice
If you are building a practice from scratch or adding a new practice area to your firm, we know that you have been asking this question: how do I learn the law well enough to practice on my own? We get it. We've been there. So, Module 9 is dedicated to your legal education. We provide an overview of what you need to know to start an estate planning or business law practice. Then, we give you the tools and resources to start a next level law practice right now.
Estate Planning
The Secret Goldmine in the Estate Planning Community
Understanding Probate
Wills
Health Care Directives
Powers of Attorney
Guardianship
Revocable Living Trusts
Advanced Estate Planning
Business Law
Business Formation
Contracts and Negotiation
Copyright
Trademark
Independent Contractor Protection
Annual Reporting and Recordkeeping
Taxes
Frequently Asked Questions
When does the course start and finish?
The course starts as soon as you sign up and never ends! You will begin the program with a one on one coaching call with one of our business coach attorneys. Modules will drop each week allowing you to focus on each step and create REAL results. Monthly coaching calls will continue throughout the 10-week program.
How long do I have access to the course?
How does lifetime access sound? After enrolling, you have unlimited access to this course for as long as you like - across any and all devices you own.